Recognising the significant scale and economic, social and cultural consequences of children involved in international and internal migration, Save the Children in Bangladesh, the International Organization for Migration, Plan International- Bangladesh, Winrock, the Bangladesh National Women Lawyers' Association (BNWLA) and United Development Initiatives for Programme Actions (UDDIPAN), organised a national convention for reducing the impact of unsafe migration on children in Dhaka on 25 June,2015. The meeting was organised into four parallel sessions with panel discussions on the Missing Child Alert, Human Trafficking, Migration and Development, and Rural to Urban child Migration. A range of panellists and speakers from across national and local government, academia, development partners, civil society, migrant workers and youth participated in different sessions of the convention and made their recommendations. Here we publish a summary of the discussions.
INAUGURAL SESSION
Hagar Russ, Director Child Rights Governance, Save the Children 
We are here today to reflect on a key child rights and child protection concern facing children in Bangladesh – the impact of rural to urban migration, especially for unaccompanied child migrants. As Bangladesh continues to move towards rapid urbanization, now is the time to sharpen our focus on the impact of rural to urban migration for vulnerable children undertaking this journey. In particular, unaccompanied children face the perils of being trafficked, exploited and abused-risks that are compounded once they reach Dhaka or other cities in Bangladesh. We hope that today's event will build on existing collaborative efforts between government and civil society and will serve to build a platform for action to support the opportunities presented by migration for children and to mitigate its challenges.  
Sheepa Hafiza, Director Gender Justice and Diversity and Migration Program, BRAC 
Migration began in Bangladesh from mid 1970s. Currently, around five lakh people migrate abroad from Bangladesh every year. Migrant workers are the main sources of remittances but they face  , many challenges while travelling abroad. Recruiting agents trap people by giving them false assurances, extorting excessive fees from them. We also see that most of these migrants are unskilled and are unaware of the different training programmes within the country to support their journey. As a result, while abroad they are forced to work in risky environments at a very low salary. Their passports are taken away from them, and their communication back home is disrupted. A worker has to work for 64 hours per week in Saudi Arabia; 56 percent of the suicide cases in Kuwait involved migrants, and of these 91 percent were from South Asia. Many migrant women are also victims of sexual exploitation. 
Moreover, those who return from abroad have limited knowledge about how to invest the money they earned. Also, the skills that they have learnt abroad are not put to use in Bangladesh. Women who return from abroad have to face different kinds of problems in society; in fact their family often doesn't support them. 
In order to combat all these problems, it's important to take necessary steps. With proper coordination between the government and NGOs, migration related laws and policies need to be implemented. It's important to raise public awareness regarding safe migration. Proper knowledge needs to be attained about the receiving country before migrants are sent there. Strict steps need to be taken against middlemen and traffickers and local monitoring teams need to be strengthened. Recruiting agencies need to be brought under supervision. 
Sarat Dash, Chief of Mission, IOM 
Migration is indispensable and a positive phenomenon given its contribution to migrants and the society. However, in recent times, we can see an era of "desperation migration" - a period of human mobility; a time of multiple, complex humanitarian emergencies. It is not only refugees, asylum-seekers, economic migrants, persons in search of their family members, victims of trafficking who are trapped in these situations. Children, whether of migrant parents, or as unaccompanied migrants themselves, are more vulnerable throughout the entire process. 
I have four specific recommendations that can be considered to reduce the impact of unsafe migration on children. Firstly, we need to identify and address the gaps in existing laws and policies. Secondly, we need to collect data on child migration for evidence-based policy interventions. Thirdly, we need to increase coordination amongst NGOs, development partners and government agencies to create effective partnerships. Fourthly, it is important for participating agencies to design and implement projects/programmes to prevent undesired/forced migration of children from the communities while appropriate skills and capacities are built for the families/children. 
Michael McGrath , Country Director, Save the Children
We always ignore children when we talk about impacts of migration. However, children are the most vulnerable section of the society and need to be made increasingly visible in discourse and research. While international or national labour migration can potentially have many positive impacts for children, by bringing in additional resources for their welfare, there is also a dark side. I'd like to highlight the statistic shared with us by Ms Hafiza indicating that around five to seven percent of children aged one to five, go missing from the urban slums in Bangladesh every year. In slums both parents are often working- leaving children to the care of younger siblings and vulnerable to risks.  We need to ensure that suitable community based child care options are available to parents. Save the Children research in Sri Lanka shows that where mothers migrate internationally for work children, especially girl children, can be subject to physical, sexual and psychological violence in the absence of their mother. We need to conduct such research in Bangladesh.
Children migrating for domestic work creates particular hazards for children. Save the Children and other organisations as well as the government, have taken different initiatives to keep track of missing children. Union Parishads have been instructed to keep a register of migrant children. These initiatives need to be implemented strictly, on a national basis. However, we also need to work to dramatically reduce the incidence of child domestic work in our cities, addressing both the push factors (rural poverty, and the lack of income protection to help families in time of crisis) and the pull factors (making it unacceptable for urban residents to use children as young as eight years old to do their domestic chores).
Dr Anna Lixi, Head of Economic Cooperation and Governance, Delegation of the European Union to Bangladesh
Bangladesh has developed considerably in the field of ensuring health and education rights of children. However, migrant children are deprived of these rights in the midst of the risky environment of cities. As a result, we need to take special care of these migrant children. The European Union, along with the Government of Bangladesh, are working together on education, health and nutrition and migration issues related to children. This cooperation will continue. 
Syed Mohsin Ali MP, Honourable Minister, Ministry of Social Welfare
There are both good and bad sides of migration. The good side is that people can avail employment opportunities through migration and bring about a change in their lives. The bad side is that due to a risky migration, migrants face various problems once they reach a foreign country. Thus, we need to pay special attention to safe migration. We need to raise mass public awareness about safe migration. In order to ensure that migrants don't face problems while leaving the country and during their stay in a foreign country, NGOs and government stakeholders need to come forward.  Those organisations working on migration issues need to have an ever closer working relationship with the Social Welfare Ministry. Local public representatives need to ensure that the people of their localities don't tread on the path of risky migration.
PARALLEL SESSION: HUMAN TRAFFICKING 
Sheela Tasneem Haq, Deputy Chief of Party , Bangladesh Trafficking In Person (BC/TIP) project Winrock International 
Human Trafficking is a global phenomena, almost every country is affected by trafficking, whether as country of origin, transit or destination for victims. It has become the second largest source of illegal income worldwide and becoming a billion dollar business. From Bangladesh alone almost ten to fifteen thousand people are getting trafficked each year and within last three years150,000 Bangladeshi has been trafficked through sea route. Among the challenges, lack of inter-ministerial cooperation; lack of accountability of recruiting agency and proper data management are significant. Combat human trafficking requires combined efforts of all the actors, specifically increasing inter ministerial cooperation; coordination between all the efforts taken by donors, INGOs and local NGOs and to establish mechanism to coordinate and standardized the data to monitor the human trafficking cases including men, women and children.
Major General (Rtd.) Abdur Rashid 
We can get hope from the fact that we are not the worst country, compared to the global scene of human trafficking. The crime of human trafficking does not merely prevail in our country but is also prevalent in countries like the United States and in Europe. In our country, jobs, marriage and other incentives work as various push factors in women trafficking. On the other hand, we are yet to send labourers through legal channels to Malaysia, as per the deal signed between the governments of Bangladesh and Malaysia, and this also acts as a push factor. 
Even though the two laws on women's and children's rights and migration are very strong, they haven't been properly implemented, as there is a sense of ignorance in those who implement laws. Different NGOs and INGOs need to come forward in this regard. 
Advocate Towhida Khondoker, Director, Legal Services, BNWLA
We will soon get the National Plan of Action 2015-2017, however, before that we need to see how much work has been done with the 2012-2014 National Plan of Action. The government is formulating new laws regularly, however, they haven't been able to formulate a way to implement these laws. Tribunals were supposed to be formed to solve the issue of human trafficking, however, no tribunal has been formed till date. 
Advocate Salma Ali , Executive Director , BNWLA
Bangladesh has formulated a specific law in accordance to the protocol of the UN to prevent human trafficking. Unfortunately, this law is yet to be implemented in our country. Even though we provide legal assistance to ensure the rights of the victims, at the end of the day, everything is in vein. We filed our first and second case in 2012, but their trials are yet to see the light of the day. 
AKM Masud Ali, Executive Director, INCIDIN Bangladesh and Chair of the session 
I was engaged in formulation of National Action Plan. It is a very well articulated programme. But to implement it we need more fund. Finance ministry should issue a circular in this regard.
PARALLEL SESSION: RURAL TO URBAN CHILD MIGRATION 
Idris Ali Khan, Senior Manager, Save the Children 
Poverty, natural disasters and family conflict are basically the reasons of migration. It's sad but true; the government has no social safety programme that focuses on children. With funding by European Union, Save the Children, UDDIPAN and the National Women's Lawyers Association have implemented the registration of aspiring migrants. The main objective of this project is to strengthen the services of Local Government Institutions (LGIs) in cooperation with Non State Actors (NSAs) to reduce unsafe rural-urban child migration and to improve the situation of migrant children. The project introduced an electronic child migration registration system and scale up and implementation of this registration is an effective instrument of reducing unsafe migration in Bangladesh. 
Abdullah Al Hassan, Director Programme, BNWLA
Till date, no initiative, like ensuring the registration of children, has been taken to prevent dangerous migration abroad. However, local police stations have been unsuccessful in finding missing children based on these ID cards. This is because local police stations are not aware about these ID cards. 
Abdulla Al Mamun, Programme Coordinatior, Manusher Jonno Foundation
The process of children registration is an experimental one. Birth registration can be easily availed from City Corporation, Pourosabha, Union Parishad, without presenting any legal document or proof. The issue of registration of children should be included in our national data to prevent the issuance and acceptance of fake or more than one birth certificate. 
Selina Ahmed, Executive Director, Acid Survival Foundation 
Generally, after a catastrophic natural disaster, the number of child labourers increase. Alongside that, incidents of human trafficking and sexual abuse are also included. We need to consider this issue in future projects. We also need more investigative research. 
Kamrul Hasan Monju, Executive Director, MMC 
The media has a major role to play in curbing risky migration. The government policy makers and the public can be made aware with the help of mass media.
Professor Khondokar Mokaddem Hossain, University of Dhaka and Chair of the session
From our discussion registration of child labours, issuing ID card for children and standardising birth registration process came to the forefront. A proper tracking system for migrant children can significantly reduce the number of missing children.We need to emphasise on rural based development to create employment opportunities for the rural people.
PARALLEL SESSION:  MISSING CHILD ALERT 
A.B.M. Ziaul Kabir , Project Manager, Missing Child Alert (MCA), Plan International Bangladesh 
Mr Ziaul Kabir focused on two issues: missing children and child trafficking and stated that there is a relationship between the two issues. From earlier research and studies, it is learnt that India, Bangladesh and Nepal are fertile grounds for human trafficking for different socio-cultural and political reasons. Lack of coordination nationally and between neighbouring countries is also a main reason behind this problem. Plan International and the South Asian Initiative to End Violence Against Children initiated a pilot project, named Missing Child Alert in Bangladesh, India and Nepal to combat missing and particularly cross-border child trafficking. Plan International Bangladesh will implement its field level interventions in Jessore and Satkhira in Bangladesh as well as conducting national level evidence based advocacy. The main four results areas of the Missing Child Alert are (a) protection & prevention of vulnerable children, (b) alert for those in transit but yet to reach destination; (c) rescue, rehabilitation, repatriation and reintegration of those who have met undesired fate; and (d) policy and legal reforms to develop conducive environment that covers all segments of response to cross border trafficking particularly.
Professor Ishrat Shamim, President, Centre for Women and Children Studies (CWCS)
Most missing children belong to impoverished families. Moreover, false promises and temptations, parental violence and child marriage also lead to an increase in the number of missing children. While investigating the actual number of missing children we've noticed that media awareness regarding missing children has reduced significantly compared to before. We have to seriously consider the issue of mass awareness. Awareness has to be created in every social field, starting from parent to Union Parishad, police stations, border guards, etc. The media has a big role to play to create awareness about missing children. 
Adv. Maksuda Akhter Laily, Bangladesh Mohila Parishad 
We know that people from different professions and strata, including police officials, politicians, and businessmen, are involved in trafficking. Thus, in order to prevent human trafficking, people from every field have to work together. Different ministries need to work in a coordinated manner to ensure punishment of the criminals and to rehabilitate the rescued children. 
Abul Hossain, Director, MoWCA
I think that we can solve this problem in three ways. First, Missing Child Alert, South Asian Initiative to End Violence Against Children and South Asia Association of Child Helplines need to work together in a concerted, coordinated manner on an international level. 
Second, every social organisation needs to develop mutual contact on a national level. With this objective, a government initiative called the National Centre on Gender Based Violence has been created. You can work with the government with the help of this organisation. 
Third, when a child goes missing from the locality, a call should be immediately placed to the number 10921, where people will directly contact local government offices and thanas. This way, the process of finding trafficked children and bringing them back home will become much simpler.  
Emranul Huq Chowdhury, Executive Director, UDDIPAN and Chair of the session
We need to strengthen the government effort to find missing children. Earlier we were not aware about the South Asian Associations of Child Help Lines. It is a very effective tool. We should take full benefit of this service. Save the Children, UDDIPAN and BNWLA has taken an initiative to register children online before they undertake migration and when they reach their destination- making the invisible visible. Local government institutions have also been engaged in this process. To expand this service we need an increased budget. We need to include Pakistan and Myanmar in this tri-country project. Finally with our large child population we need a separate directorate for children.
PARALLEL SESSION: MIGRATION AND DEVELOPMENT 
Peppi Siddiq, Project Development and Donor Liaison Officer, IOM 
Globally  women make up of almost 50 percent of the migrant stock, however, in comparison, only five percent of women are migrants in Bangladesh. As female migration is a growth area we need to be prepared for the societal impact it brings with it especially in terms of children who are left behind. There are basically two main challenges in migration –  facilitating regular migration through ensuring proper implementation of migration related laws and policies, and the prevention of human trafficking through awareness raising and strengthened justice system and the law enforcement agencies. Ensuring safe migration is not the responsibility of any single organisation or government body,  and a coordinated "whole of government" effort is require
Jasiya Khatun, WARBE Development Foundation
Over 93 lakhs people are estimated to have migrated from Bangladesh from 1976 to 2015. Last year, the remittance reserve of Bangladesh Bank amounted to $16 billion. This year, remittance has reached $9 billion till date. The families of migrants are considered to be deprived families. Children in these kinds of families face the most dangerous risks. A European funded research titled 'Social Costs of Migration' shows that a child of migrant parent(s) is most likely to drop out of school. We need to identify how responsible we are to the families, especially the children, of migrants. 
Kazi Abul Kalam, MoEWOE and Chair of the session
In our context, migration has become a reality. Now we need to govern and regularise the migration process. We need to ensure that children can get better opportunities through migration. Finally, we need coordination of our various initiatives.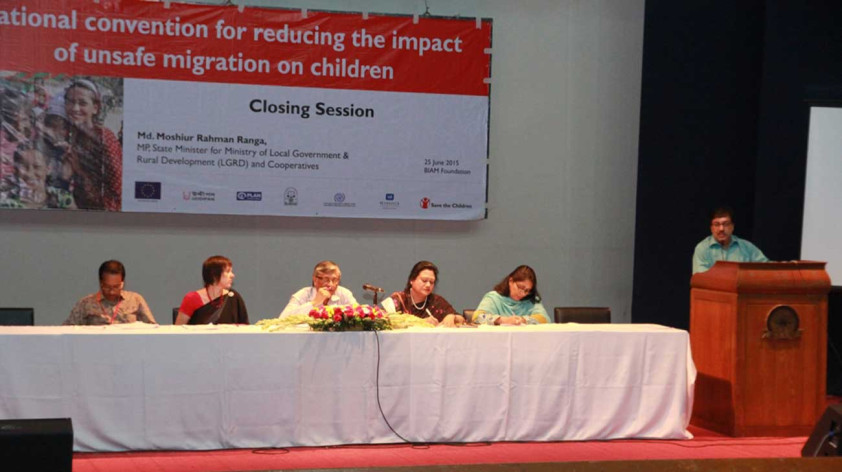 CLOSING SESSION 
Sian Platt, Director, Business Development, Plan International Bangladesh 
We need a holistic approach to address the child migration issue. We need cross border coordination between government, non-government organisations and civil societies. We need to exploit technology to keep track of missing children. Disaster induced migration is another important issue to be highlighted more. Finally, we need to turn the policies into practice. 
Kazi Reazul Haque, Full Time Member, National Human Rights Commission 
We have adequate legal instruments to counter human trafficking but we lack proper implementation of these laws and policies. I think not only the government but also all the political parties, NGOs and civil societies should join hand in this effort. Recently we organised a national consultation on human trafficking and formulated 28-point recommendations. I hope you will find some important point in that document. Finally, Human Rights Commission is very eager to work on the migration and child rights issue. You will get full support from our side. 
Recommendations 
* Create mass awareness on child safe migration/trafficking through media and other effective methods.  
* Examine policy and legal gaps on child migration. Reduce legal confrontation between different law and act. Effective implementation of National Plan of Action (NPA) should be emphasised. 
* Gather evidence on child migration and trafficking. Strengthen mechanism to coordinate and standardise data. National level survey/mapping by government or development partners on child migration.
* Inter-ministerial and inter-agency coordination to ensure children's rights and vulnerabilities. Establish local CSOs network (including counter trafficking committee, comprehensive joint border monitoring). Establish linkage with Social Safety Net Programmes (SSNPs); LGIs (Local Government Institutes), CTC, LGIs Budget, LEAs, school programmes. Thematic Group on Counter-Trafficking and Anti-Smuggling needs to formed. Establish hotline links with ministries. SSNPs need to increase. 
* Create citizen watch groups to monitor the human trafficking hot spot areas.
* Mapping of regional, institutional capacity building, and sensitise migration authorities. Introduce counter trafficking issues in training curricula for judicial, law enforcement and investigation agency. 
* Promote and expand the child migration registration. 
* No strong mechanism for tracking migrant children. Harnessing potential of technology in addressing trace rescue, repatriation, rehabilitation and integration of migrant children. 
* Build commitment and willingness of LGIs to prioritise a migration registration framework and recognise the vulnerabilities and rights of child migrants. 
* Fair birth registrations and ID cards for all children.  
* In-depth research and study needed for policy advocacy.  
* Strong monitoring, especially by city corporations, of children engaged in hazardous labour. 
DRAFT DECLARATION
We, the representatives of Save the Children, the International Organization for Migration, Plan International, Winrock, BNLWA and UDDIPAN, gathered in Dhaka on 25 June 2015, recognising the significant scale and economic, social and cultural consequences of children involved in international and internal migration, make the following commitment, and call upon the Government of Bangladesh, non-government actors, civil society and individuals to act together to strengthen responses to the issue. 
The scale and consequences of children on the move and children left behind in Bangladesh
1. Migration in Bangladesh is driven by opportunities such as the promise of available labour markets. External migration exerts a strong labour market pull with an estimated 8.6 million Bangladeshis working overseas, mostly in the Middle East (IOM, 2015).  Migration remains one of the means for individuals to seek freedom of choice and opportunity. It also provides avenues to better livelihood options, overcome poverty, escape conflicts, adapt to economic and environmental challenges and strive for a more prosperous future for the migrants and their families.
2. Although there are no official statistics on the number of child migrants in Bangladesh, we know that a significant proportion are children and youth. Across Bangladesh, children are on the move, some with families and some unaccompanied. They will move for a variety of reasons, voluntarily or involuntarily, within Bangladesh or outside its borders. For many of these children and their families, migration is a positive experience driven by the promise of jobs, education and better standards of living. For other children (particularly those who are unaccompanied and/or those who are driven to migrate because of household poverty), migration, particularly through irregular channels, pose a risk (or at an increased risk) of economic or sexual exploitation, abuse, neglect and violence. Migrant children who end up living in slum communities experience particular deprivation.
3. While remittances from parents may support the education and healthcare costs of children, anecdotal evidence and empirical research indicate that children left behind have less supervision at home, experience emotional problems, may be more likely to drop out of school and may be more subject to abuse (Save the Children, 2006). In Bangladesh, although research points to remittance flows helping to reduce poverty and spur economic development (remittances from migrants abroad contribute to raising consumption levels and increasing the diversity of consumption (BBS, 2014)), the effects of "brain drain" and parental absence take their toll.
Building on the existing national framework for action
Description of the counter trafficking initiatives and programmes on Migration of the Government of Bangladesh, as well as organisations such as the IOM, Winrock, Plan and Save the Children- redacted for the purposes of word count, but described in the text of the full declaration.
ACTIONS
4. Recognizing and appreciating the ongoing efforts of the Government of Bangladesh and of non-government actors to tackle the impacts of child trafficking and of unsafe child migration and welcoming the resources provided to date to support such efforts, this meeting recognizes that the negative impacts of child migration can be more effectively tackled through a collaborative approach. 
5. To this end, we commit ourselves and call upon the Government of Bangladesh, non-government actors, civil society, and individuals to take the following action, as follows:
 Assist in the inter-sectoral and inter-agency coordination systems to better respond to the needs of children involved in international and internal migration in Bangladesh, by ensuring to the extent feasible, recognition of children's vulnerability and the special needs.
 Strengthen policy coherence through our programmes, to:
* ensure that children's rights and needs as children are fully recognized, particularly in line with the Convention on the Rights of the Child which includes the obligation to respect and ensure the human rights of all children, including children on the move and other related legal instruments,
* advocate for the guarantee of full protection, promotion and fulfilment of the human rights of children independently of their citizenship status, guided by the principles enshrined in the UNCRC, particularly best interests of the child, non-discrimination, right to express their views, and non-criminalization for irregular migration,
* recognise particular vulnerability of child migrants and take age- and gender-appropriate measures when protecting and assisting vulnerable child migrants, in particular child victims of trafficking, 
* promote a definition of children involved in international and internal migration in Bangladesh as "children moving for a variety of reasons, voluntarily or involuntarily, within or between countries, with or without their parents or other primary caregivers, and whose movement might place them at risk (or at an increased risk) of economic or sexual exploitation, abuse, neglect and violence
* Agree to share information on programmes and policy initiatives to foster stronger collaboration and coordination on programming and policy engagement relating to the adverse impacts of migration on children on the move or left behind. As part of this, where relevant, advocate to mitigate the risks of unsafe migration for children and other vulnerable communities including actively promoting the operationalisation of the rural to urban child migration register and the missing child alert system.
6. Undertake further assessment, initially over the next twelve months, building on existing assessments and collaborative work, of the dynamics of international and internal migration of children in Bangladesh. This should address the links between trafficking, labour migration, urbanization and assess impacts of migration on children on the move and those left behind.
7. Prepare a joint plan of action that fully reflects the recommendations of this Convention to protect child migrants and children who are trafficked.
See at: http://www.thedailystar.net/supplements/national-convention-reducing-the-impact-unsafe-migration-children-104884